Come visit our new showroom
2019-07-09
Our new showroom is now open, many of interesting lots to see for next auction on the 16th & 17th of July!
Summer holidays
2019-06-06
Please note that our offices and yard will be closed On Monday June 24th and Monday July 1st for national holidays.
Our offices will be closed on Monday, May 20th
2019-05-17
Please note that our offices will be closed on May 20th due to Victoria Day
Tips & Tricks
2019-04-22
Some tips and tricks for the auction of April 23rd and 24th. 

1. Empty your history and close the apps you don't use.

2. Do not open several windows on the auction site.

3. Update your device. 

4. Avoid Max bids that are in round numbers. Add $ 1 or a few more dollars to your max bid to win the tie breaker.

5. Avoid ''sleep mode'' with your device during your session.

6. Disconnect from your session via ' ' my account ' ' when not bidding.

7. On a mobile, disconnect and reconnect with '' My account '' when you switch from wifi to 3G roaming or from one wifi to another.

For help regarding mobile devices:
https://www.giqauction.com/en/content/67-mobile-web-support
For help regarding computers:
https://www.giqauction.com/en/content/65-virtual-kiosk

Thank you and have a good auction!
New Showroom
2019-04-09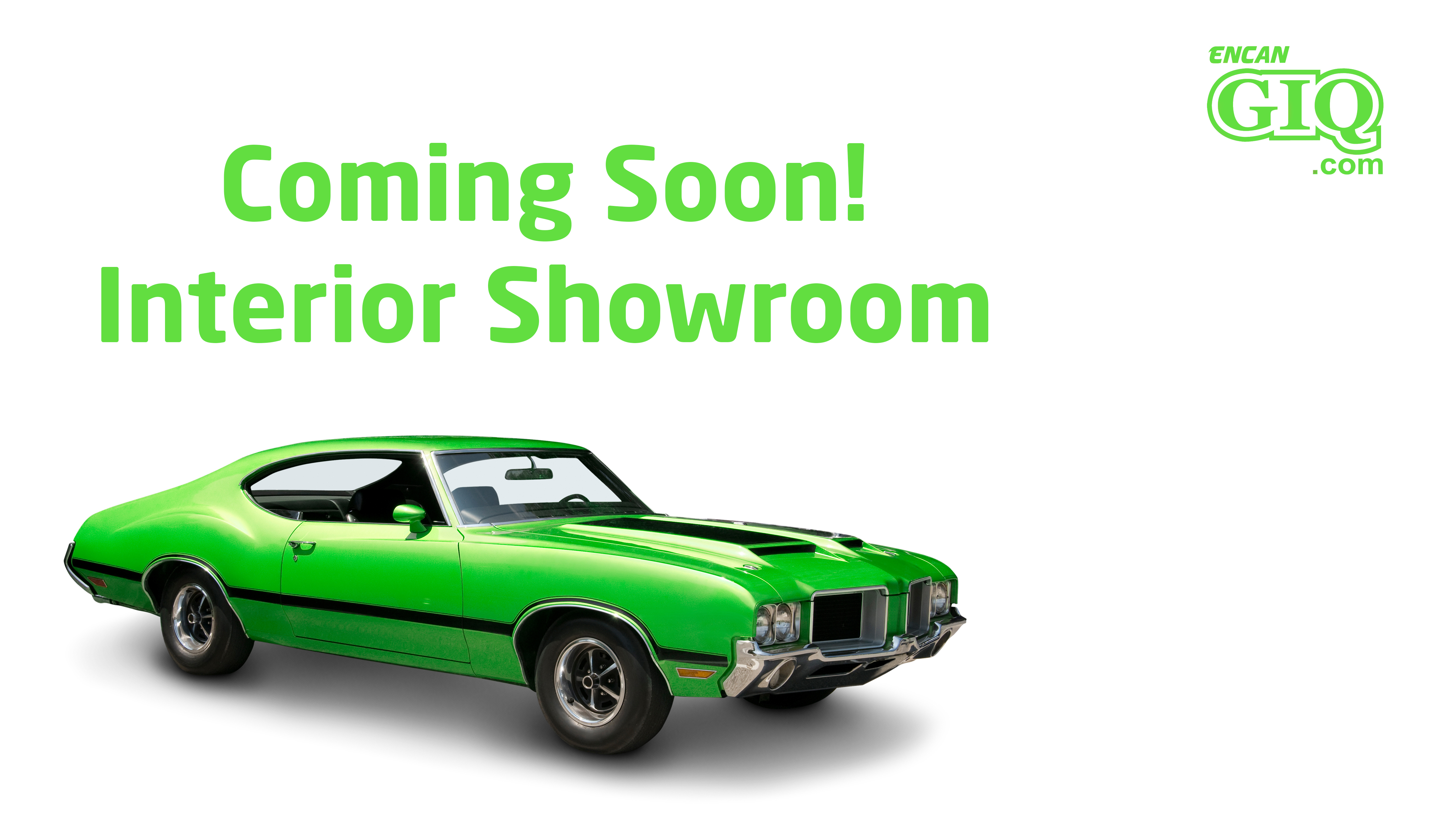 Chrome update recommended
2019-03-20
It has come to our attention that the previous Chrome versions have become unstable with our website.
We highly recommend updating chrome.
GIQ Auction Sponsors team at Yukon Quest.
2019-02-14
New troubleshooting tool for PC
2019-02-08
GIQ Auction's web team developed an application that connects to our website directly
via a virtual machine.  We call it a virtual kiosk. If you have a bad web connection, Wi-Fi issues or for some
unknown reason you cannot bid with your PC, click here and use the virtual Kiosk.
We are currently working on a upgraded connection service for Mobile devices.
Holiday hours / closures.
2018-11-22
We will be closed for the holidays from the 22nd of December to the 6th of January. Please be advised that only security will be onsite. 
No delivery / shipping will be available during this period.
Happy holidays. 
Closing of our offices on Monday, October 8
2018-10-02
Please note that our offices will be closed on October 8th due to Thanksgiving.
Closed on Sept.3 Labor day
2018-08-29
We will be closed Monday September 3 for labor Day. 
Thanks
Job offer
2018-08-28
Sales Supervisor

As a supervisor, you are responsible for the operations of the team receiving and selling the lots sold at auction.

In particular the interaction with the consignees, enforce the rules of the auction and the proper functioning of the team and the sale of equipment.
Evaluate and analyze and consignor lots.
Problem solving.
Personal management.

Job requirements
Required profile :
Mastery of French and English, spoken and written;
Have experience from machinery and / or transportation an asset;
Possess skills to use computer systems (MS Office);
Have knowledge of Acomba software an asset;
Possess college-level training or equivalent experience;
Possess a class 5 driver's license;
Demonstrate strong team building, discipline, interpersonal communication, planning, organization, control and monitoring skills;
Ability to make decisions and good stress management.
Send your resume  Here
List now for our next Auction in September
2018-08-09
Québec and Canada Day closures
2018-06-11
Please note that our offices and yard will be closed for Quebec national day and Canada Day on Monday June 25th and Monday July 2nd
Happy Victoria Day!
2018-05-16
Please note that we will be closed on Monday, May 21 for Victoria Day.
We will be closed for Easter on Monday April 2.
2018-03-20
Sell fast on the 13th ant 14th of March
2018-02-06
New website
2018-01-19
GIQ Auction has released its 3rd version of GIQAuction.com , new graphics and most importantly its now a fully responsive website for improved use on mobile devices.
Consign this week ans sell in January.
2018-01-11
Christmas Holiday hours
2017-11-28
We will be closed December 23rd to January 2nd inclusively.

From the entire GIQ team, we wish you a happy holiday season.




November auction date announced!
2017-10-12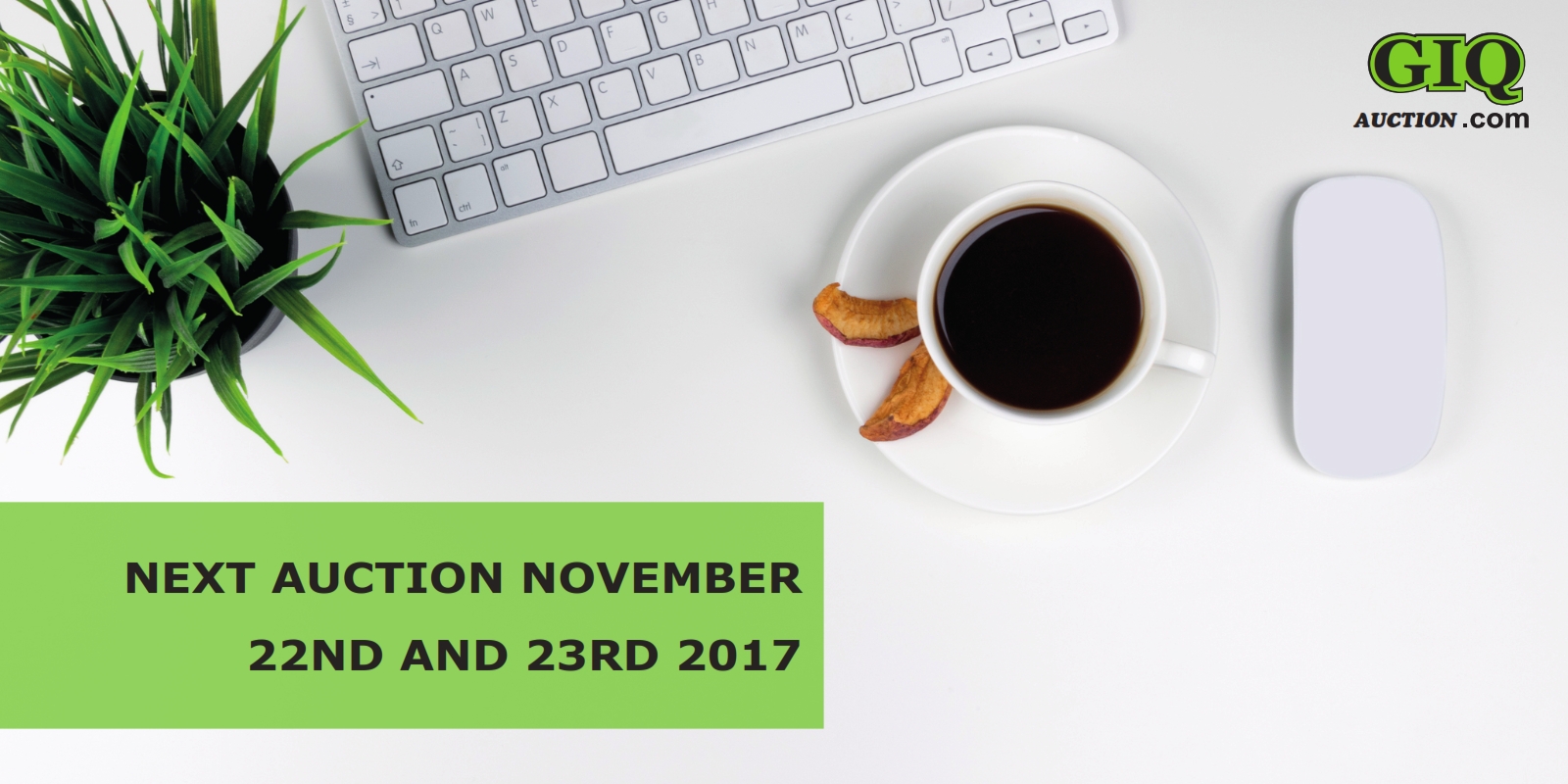 We will be closed Monday the 9th for Thanksgiving
2017-10-04
We will be closed Monday the 9th for Thanksgiving
Thanks.
Buy & Sell, next Auction Oct. 18th and 19th
2017-09-27
Auction Sept. 12th & 13th
2017-09-12
July 18th and 19th Auction 2017
2017-07-17
Office hours for summer holidays and closures
2017-06-23
We will be closed Monday, June 26th, and July the 3rd.
Happy holidays. 
Register your max bids early starting June 7th
2017-06-05
Victoria Day / Patriots day
2017-05-09
We will be closed on Monday the 22nd of May for a statutory holiday.
Thanks
Easter office yard and office hours
2017-04-03
Please be advised we will be closed Friday April 14th 2017 for Easter. Normal office hours on Monday April 17th.
Thanks
Snow Storm
2017-03-15
Due to weather conditions management has decided to extend bidding by 24 hours. Many staffers where unable to reach our offices and many bidders will need more time to log on. 
Thanks for your understanding. 
GIQ Auction in numbers
2017-02-07
GIQ Auction in numbers
Some of our recent stats! Join rapidly growing market place as a Seller, Buyer or both.
3379 active bidders
441 active Consignors
4034 auction day sessions
353 359 January page views
596 lots sold in January
13 748 bids between January 23 /24
217 bidders won lots in January
Next auction March 14th & 15th 2017
2017-01-19
Our next auction will be set on March 14th & 15th 2017, new listings will start on Monday January 30th. 
Thanks!
Holiday hours and closings
2016-12-06
We will be closed December 23rd and 26th, 30th and January 2nd.     Happy holidays!
Please be advised that we will have limited staff from Dedember 23rd to Jan 9th. 
Refresh issues with some Samsung Devices
2016-11-25
It has come to our attention that some browsers installed on mobile Samsung devices have an issue displaying correct time on or website. It will display incorrect time when using the back button. This browser is installed on your device OE and is called ''internet''. It lacks standard HTML5 features.
Our team is working on a fix, but we recommend you download Chrome for your device as it supports more features.
Sorry for the inconvenience
Thanks
(see icon below to identifiy this browser)
New browser minimum requirements
2016-11-07
Starting this November, we have upgraded our software for even more reliability and security. For MS Explorer and MS Edge users this will mean we no longer support these browsers. 
A message will provide you with a link to the Google chrome download page. This is the preferred browser and our website is optimized for this software. However you can also use Firefox and your smartphone browsers with no known issues.
If you choose to continue to use MS Edge or IE to bid, in order to view the auction correctly avoid using the back button and refresh your screen often.
Thanks  
Lot inspection open on Monady thanksgiving
2016-10-04
We will be open from 8am to 5pm for lot inspection on thanksgiving Monday (10/10/2016)
New MarketPlace ad section
2016-08-11
If you rather try your luck on your own before sending your equipment to our auction, place an ad with us and profit from the high quality traffic of GIQAuction.com
We have a steady stream of qualified buyers that visit GIQ Auction for their equipment needs, in our Market Place your ad will be seen by professionals.
Web site tips for mobile phones
2016-06-14
Web site tips ; In order to access the full website on a mobile phone, flip your screen horizontally, Also make sure your browser is not on private mode. Thanks!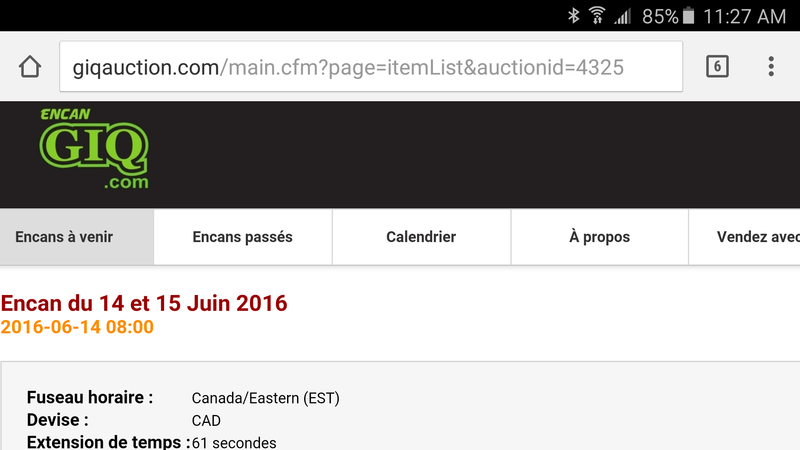 New website is Google Chrome optimized.
2016-06-03
Our new website is now optimized for Google Chrome. We recommend you download this Browser if you are currently using IE or Edge for bidding. GiqAuction.com also supports Firefox, safari and Android Browsers with no known issues.     
As of April 2016 the mosted used browsers on the internet where : Chrome 70.4%, IE 5.8%, Firefox 17.5%, Safari 3.7%.
We hope you will enjoy our new Bidding plateform this comming June 14th & 15th. 
Thanks!
New website now online!
2016-05-16
New version of our catalogue, easier to use, mobile friendly and faster.
Easter holiday hours
2016-03-22
We will be closed on Monday the 28th 2016


For Easter, we will be open Friday the 25th from 8h00 to 17h00. And closed Monday the 28th of March.
Thanks
Tips and tricks for a better experience
2016-02-10
Get the news in real time to act quickly!


During intense competition on lots such as the buy it now option. The reaction time is critical for the win. Most browsers like Chrome or Explore keep track of the pages you visit for a faster experience. But this has the effect of not seeing in real time the changing content on the site, a new button for example.
The best way around this problem is with the Google Chrome browser. It offers an extension that disables this function.
Here is how to get it: Install Google Chrome if you don't already have it.
https://support.google.com/chrome/answer/95346?hl=en
Then install the application called ''cache killer''
https://chrome.google.com/webstore/detail/cache-killer/jpfbieopdmepaolggioebjmedmclkbap?hl=en
Then just click ' on ' in the right corner before going on the site.
Once activated, you will have the latest version of every page you visit when refreshed. For example, if the lots are active or immediate purchase button becomes available, you can view them immediately. Of course the power of your computer and your connection quality factors remain for cases where actions are judged by the second!
Over 500 lots for the 26th and 27th of January 201
2016-01-21
Over 500 lots for the 26th and 27th of January 2016
Over 500 lots for the 26th and 27th of January 2016
Lots open for inspection, over 300 lots of tools auctioned unreserved!
Inspection is available Monday to Friday from 8h00am to 5h00pm
Information on deposits
2015-12-03
Information on deposits
New bidders


If your account is activated with a deposit required (individuals not incorporated) you must first make your deposit before the system will authorize you to bid. Deposits are not a charge on your credit card. They are pre-authorizations.
These pre-authorizations are valid for 7 days. If you do not win any lots your deposit will be released automatically. If you win one or more lots, it will be captured and applied to your invoice.  
Thanks
New ''Open Offer'' feature
2015-10-06
New ''open offer'' feature
Last chance offer!


This new feature is designed for passed or unsold lots. If a lot has not sold and is passed, the owner can now offer it with his best offer.  For bidders, it's a first come first serve. Once pressed, this bouton sells the lot to the bidder at the price advertised.  
Be quick, because this feature is offered on a limited time basis during and after the auction and will disappear!